Hi, my name is Lucky Boy.  And I really am a lucky boy.  My story doesnt start out so great, though.  Eleven years ago I was born in captivity in a Mexican zoo, and then sent to a resort in Southern Belize.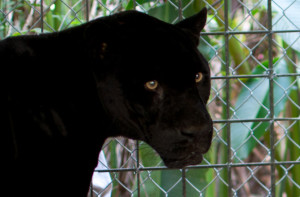 In mid-July 2012, Facebook throughout Belize was all a-buzz about 2 jaguars discovered in an abandoned resort in Southern Belize.  Things had gone OK for years, but then something went not-so-okay, and the owners had to leave.  He left me and my companion spotted jaguar in the hands of caretakers, who left us.  We had no food and hardly any water.  My spotted jaguar best friend died.  I nearly died…but word got out and the Belize Forest Department and The Belize Zoo came to rescue me.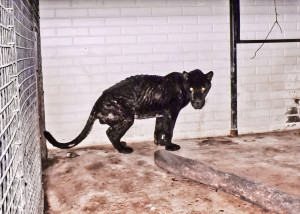 I thought I would be dead soon, but then I saw the nice people and I thought that maybe I still had a chance.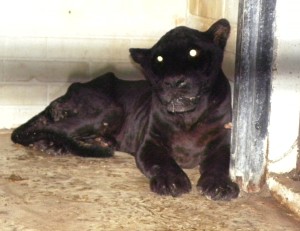 Now, a difficult mission was in front of the zoo.  Barely even able to stand, weak and emaciated, I was coaxed into a wooded box.  It took two days for the zoo team to convince me to get in the box.   Since I was a sickly animal, they knew i would not live through being tranquilized.   These are harsh drugs and likely to cause death in a weakened animal like me.  Once I was in the box, the door was gently closed, and the team drove all the way from Punta Gorda to the zoo at ten miles an hour!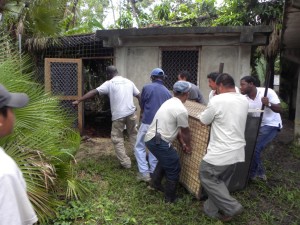 They used a whole lot of patience and some yummy beef liver to get me into the cage.  Once i was in there, they gave me even more beef liver.  I think i like these people.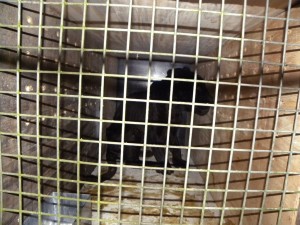 One my second day, i began to explore my new home.  My new mom, Sharon Matola who founded the Belize Zoo loved when i gave her "high fives" when she fed me.  Doesnt she know how happy I was to have a home and love?  I'd have done backflips if Ihad  had the strength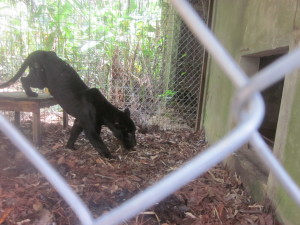 By Day 5, I was already getting stronger and stronger.   My skin is healing already and my fur is growing back.  I'm starting to feel much better.  My mom posted on The Belize Zoo Facebook page that I was"Eating like a champ and enthusiastically interacting with caregivers.  A surprisingly calm and easy going jaguar, a special diet and tender love and care are all he wanted".  My new mom is very smart.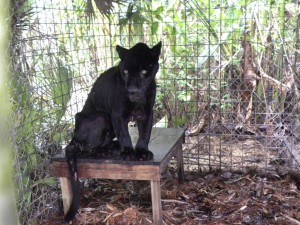 Day 11 and I feel even better.  Although it doesnt look like it, my fur and skin are soooo much better.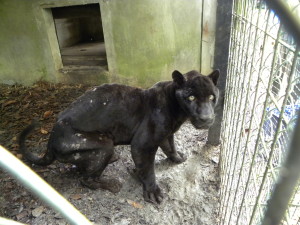 A
Day 13 – My mom, Belize Zoo Founder Sharon Matola, and I enjoy music therapy as we sing "Lucky Boy Rocks" a song she wrote just for me.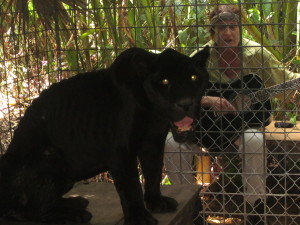 Just one month after being rescued imminent death, and look how big and strong i am!  Apparently, there's been a fundraising effort on my behalf.  I am ever so grrrrrateful as i do eat a lot, and i like good food!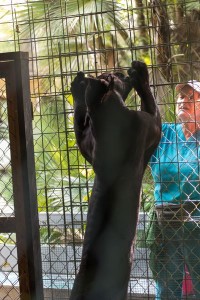 Check out my new digs!  Sure beats the concrete block i was living in. I have my own pond!! Here I am, checking it out for the first time. Life Is Purrrrfect.  HIGH FIVE!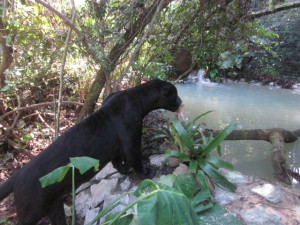 December 6, 2012 – I hang with Royalty!  Here i am with Miss Belize (Destinee Arnold).  This is my very first time checking out the "people cage" in my enclosure.  I loved being with people and Mom was so proud.  I got a LOT of chicken, and who doesn't love having their picture taken by professional photographers like JAG Studios?
In March of 2013, a group of people came from Cornell University College of Veterinary Medicine.  Dr George Kollias did a thorough exam and check up and gave me a clean bill of health.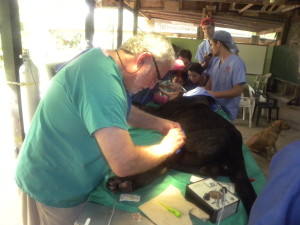 Well, except for one thing.  They said I needed to gain another 30 pounds.  I was super excited about this news (See pic below) but Mom said I was "eating her out of house and zoo!".  So, click here if you'd like to donate to help me and all my friends at the Belize Zoo, i'd totally high five ya!  PAWS UP!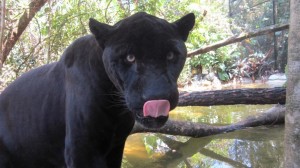 I agree with Ghandhi when he said "The greatness of a nation and its moral progress can be judged by the way its animals are treated".  I think Belize sure is grrrreat!

[spoiler title="Request More Information" open="0″ style="2″]



[/spoiler]