Live all of your Travel Experiences with Romantic Travel Belize
At Romantic Travel Belize, we believe your vacation is more than just a trip -it is truly a once in a lifetime experience. That's why we offer you some of the most amazing Travel Experiences. Our goal is to create a space in which you can fully immerse yourself in Belize – and as we say, "Be One With Belize"…the way YOU want it. We don't work with just one property or one tour operator – we work with them all. We don't have pre-planned packages, we custom tailor each one to your dream – not our version of your vision.
From the best of Belize from snorkeling to Mayan ruins to private tours of private businesses and public properties, we specialize in all things Belize.
Our motto: The Answer is Yes, now…what's the question?
Would you like to have a one on one with a Jaguar? Yes, we can make that happen.
Want to sleep on an Ancient Mayan Temple? Yes, we can make that happen.
Customized, chic and magazine worthy wedding dreams? Oh yeah, we can soooo make that happen.
Anniversaries

Dates are important.  We love to commemorate special events or moments in our lives.  Anniversaries should be celebrated!  We'll plan your trip so you can enjoy each other and create new memories to cherish. Keeping the spark alive is critical for any marriage. The warm tropical Caribbean breezes are just the thing to fan those romantic flames. Celebrating the moment when you two became one is a great and important way to keep the romance alive in your marriage or relationship. Why not allow Romantic Travel Belize to tailor-make a one of a kind experience that you and your other half will never forget!
How about dinner at sunset in a boat on the reef?
Perhaps you'd prefer a waterfall in the mountains of Belize.
Whatever your desire, we will make it a reality.
Nothing adds more spice to a relationship than a few little surprises for your beloved – experiences like:
Couples massage on the beach
Dinner for 2 on the dock
Dinner for 2 on a boat as the sun sets, including champagne and Belizean Chocolate covered strawberries.
Custom designed jewelry with stunning jade or conch pearls
Surprise picnic on a hiking trail
Together, we will collaborate to bring that jaw-dropping "You Did This For ME!??!" expression to his or her face.
Romantic Travel Belize is your Belize Anniversary Planner the whole year round!
Girls and Guys Romantic Getaways
Looking for a little bonding time with your girlies or buds? We can think of no better place than Belize. With our "No Shirt, No Shoes, No Problem" attitude, a quick weekend in Belize can be just what the doctor ordered….if that doctor was "Dr Fun".
Let's find the perfect romantic getaway with a private chef for you, goodness knows you take care of enough! Let us take care of you and your friends – after all, isn't that the best way to recharge your batteries?
Fab, Fit and Fun Package: Once we've settled on where you and your girls want to stay, we'll then create a fitness package for your insides, as well as your outsides! Water aerobics, organized runs, private yoga or pilates classes, holistic treatments, spiritual readings, massages and private healthy cooking can all be arranged.
Sit, Snorkel and Soak up the Sun Packages: Sometimes the best way to get connected to your girls is through true relaxation. Let us help you select your ideal location then we'll pick some water activities such as Snorkeling or Scuba Lessons, golf cart tour of La Isla Bonita, and cocktail specials at some of the most fun and relaxing special locations on the island
Mayans, Menu's and Mani's Packages: Mayan ruins, delicious food, and a little mani-pedi on the beach never hurt a girl!

Private Parties: 

Sometimes a party just needs to happen.  And sometimes, that party needs to be awesome.  We can do that.

All of the Above!: Let's create a special package just for you and your girls! Bachelorette or "doe" Parties, Pre-Baby Getaways, Birthdays – if a girl can find a reason to celebrate, may as well do it far far away from the stresses of everyday. Email me, let's talk!
Plan your Relaxing Getaway with Romantic Travel Belize
Belize is nothing if not healing. The energy is commanding in its strength to soothe the soul. Romantic Travel Belize will create a holistic experience to respond to whatever it is your spirit seeks. Let us arrange a healing cleansing and spiritual session with a Mayan Shaman, yoga retreats, Mayan and traditional massages, ReiKi, Thai Chi, Acupuncture, readings, Mayan medicine and more! Contact Romantic Travel Belize to plan your Relaxing Getaway.
Plan your Family Vacations with Romantic Travel Belize!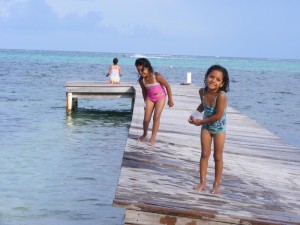 Bring the Kids! This English speaking former British Colony is a safe haven for family vacations. Whether a vacation for your immediate family or a massive family reunion, Romantic Travel Belize will organize it all for you – so you can get to exploring or relaxing.  Click here for Family Vacation Blog
By bringing your children to Belize, you are affording them a once in a lifetime opportunity to expand their minds, learn as they play, and encounter things they'd never see at home.  Romantic Travel Belize will create a custom itinerary that will allow you to relax as your children play, learn, experience and explore!
Our adventure tours are perfect for families. Take your children to the "Best Little Zoo in the World" after they've gone cave tubing down rivers lined with evidence of ancient Mayans. Learn with your children as you explore the Worlds Second Largest Barrier reef which borders our 185-mile coastline. Explore ancient Mayan Temples at any of archeological sites dotted throughout Belize. As an English Speaking country, your children (and you!) can ask as many questions as you'd like of your trained and licensed tour guides.
Corporate Events
 Of course, we do romantic perfectly at Romantic Travel Belize! However, we do Corporate to another level of perfection. 
Our founder/owner Lara Goldman is a former VP of HR for publicly traded company, one of her core competencies is corporate synergy, so event planning is right there in her bailiwick. Net net, you should go outside the box and consider us to help you create the strategy for your corporate events (did you notice how many buzzwords she effectively used in just those two sentences!?!?)
Holistic Events
We would love to direct you to our Wellness Page if you're looking to really take care of your physical body… But you may also be looking to care for your inner world, through deep inner work that leads to clarity and transformation, where ever your journey leads you. We have access to a wellspring of Spiritual Modalities, Teachers and Shamans/Healers. And we are happy to facilitate your souls calling. 
Belize may be great for adventure, but it's just as great for those seeking a more spiritual journey. Looking to "unplug"?  We still have resorts that don't have internet or electricity – sometimes going 'off grid' is the best thing for the soul.  We also have several properties and options for those looking to enjoy yoga on the beach or in the jungle.  Let us know more about your vision of the perfect Belize journey, and we'll match you up perfectly.
Custom Itineraries
"YOU CAN HAVE IT YOUR WAY"…
Well, we really mean it!  Our team works with you to meticulously craft the escape or event of your dreams. You tell us what you want, we fill in the blanks! Now that we are clear on that. Peruse some of our recent dreams-capes,  to tantalize you with possibilities! We pride ourselves on giving distinct attention to each and every, Custom Designed event.
Click on the image below to see Custom Itineraries.